2nd Day of Oil Painting of My Sister's Portrait
As you may have seen from my Day 1 of oil painting this portrait (showcasing my sister's beautiful face), I had my work cut out for me for Day 2, which consisted mostly of refining shapes and more color blocking.
I'm still finagling the placement of important facial details, including the hairline and jawlines. And I still haven't added my value placements.
What about that grid?
Surely you're probably noticing that grid-like object placed on my painting and wondering what that's all about.
I created that grid myself, taping brown embroidery threads in various equal lengths along all sides of my canvas, to help me better paint the painting's composition a bit more accurately.
While this thread-grid effort isn't foolproof, I find the grid's lines tremendously useful. And because the embroidery threads aren't tautly fixed, they can be gently moved around with each brushstroke without causing much, if any, damage.
Painting Day 3
Day 3 of this portrait painting will find me:
still refining the placement and angle of the eyes, nose, and lips
fine-tuning the hairline
starting to add accurate placements of values and cast shadows
Keep you posted!
Until then, thanks for reading.
Explore the art of illustration with me.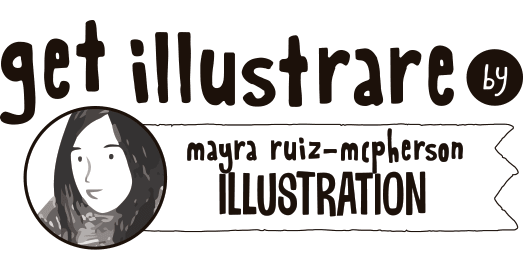 Receive illustration, surface pattern & other creative insights.
(My licensed products line is coming soon, stay tuned!)
Latest posts by Mayra Ruiz-McPherson
(see all)