3 Delightful Reasons Why Mixed Media Collage Has Become a Source of Inspiration
This pandemic-esque summer of 2020 has, thankfully, ended up being a season filled with endless mixed media collage inspiration. I find myself, almost daily, finagling with vintage papers, ephemera, fabrics, and various art mediums to produce collage after beautiful collage.
In the process, I've become rather collage-hooked and don't see any immediate end to my collage-o-holism any time soon.
I've spent some time trying to figure out why all the rage and here are three reasons I've become enthralled and entranced by mixed media collaging as of late:
Profound computer liberation
My creative and consulting career (as well as my master's and doctoral programs) requires me to be online for incessant hours on end.
When I collage, however, I am forced to unplug, which offers me some needed respite from saturated (and multiple) inboxes, online research, social media, and all the digital design work that needs my attention.
As a result, I get into a deep creative groove as I fidget through mountains of papers and fabric scraps to create interesting juxtapositions, enhance typographic drama, and unleash hues of color that visually work well in combination with their mixed media counterparts.
Getting back to the beauty of paper
So many of our days are spent in a paperless world, where receipts are emailed or most anything that would be found or printed on paper is now preferred or available online.
As a visual artist, however, I find that the physicality and texture of paper is an essential component to producing interesting aesthetic outcomes that most computers and design software --- despite their advanced effects and best efforts --- can't fully replicate.
As such, I'm firm in my belief that while computer-simulated paper textures — despite their vast array and sophistications — don't nearly do justice in comparison to (when using) real paper.
So I find myself, as of late, in a hyper-paper-maverick-mode of sorts, where I purposefully seek out ALL kinds of paper to produce paper-forward art amidst our paperless world. Mixed media collage art, it seems, fits quite nicely into this maverick mold.
The illustration pressure is (mostly) "off"
In terms of mixed media collage where vintage paper and/or all kinds of paper(s) are involved, the creative pressure to draw or come up with something is softer and — in some cases — gone entirely.
At least, this has been my mixed media collage experience thus far.
And this, in my view, is because some papers, vintage papers especially, already come adorned with some kind of imagery and/or visuals that are quite pleasing and enjoyable to highlight.
Therefore, the need to draw or come up with a corresponding illustration (or accessorizing artwork) while assembling a mixed media collage art piece is not always as necessary.
Additionally, the papers one works with already have beautiful illustrations on them, again lending to the idea that incorporating handmade drawings aren't as mandatory. For someone who draws and illustrates rather frequently, this offers a nice drawing break and makes drawing up something more of a plus rather than a must.
What do you think of my pro-collage position ✊ or collage spreads shared here? Do you agree working with paper is just as refreshing or do you prefer sticking to digital art instead? Please share your comments with me below and thank you for reading!
Explore the art of illustration with me.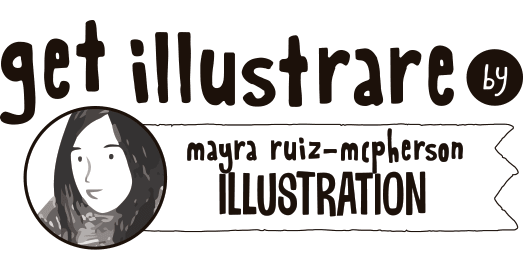 Receive illustration, surface pattern & other creative insights.
(My licensed products line is coming soon, stay tuned!)
Latest posts by Mayra Ruiz-McPherson
(see all)