Doodle Art Collection: Volume 1
I recently started organizing all my ink, pencil, and marker doodle art over the past five years into a consolidated collection.
This effort is long overdue because I literally have doodles after doodles spread out across my many notebooks, multiple sketchbooks,  random sticky notes, and loose sheets paper stuffed into my desk drawers.
I just can't take seeing all these rogue doodles adrift any longer 🙂 and so I've been trying to organize them all into a centralized doodle art repository of sorts in hopes of sharing them with you here and possibly also self-publishing them in the near future.
At any rate, let's quickly agree on what doodle art is in the first place.
What is doodle art?
Here's my take on what doodle art is (or is intended to be):
Doodle art represents loose, casual, and carefree sketches or drawings usually done up for fun or as quick references for future drawing projects. Doodle art can also aid an artist to storyboard his or her ideas as well as serve as mini points of inspiration for grander scale artistic endeavors.
Doodling artists doodle using just about anything that makes a mark, be it a pencil, chalk, marker, watercolor paint, and more.
The goal is more to just have fun and be creatively expressive, even if the doodled art is rough-draft looking or left unfinished (like mine tends to be).
About my Doodle Art 1 collection
The featured image of this post showcases a wide range of doodled art I've created at different periods of my artistic journey:
Upper left page
Here is a charcoal-sketched thumbnail of a doll sitting next to a jar and in front of a picture frame containing a child's teddy bar drawing. The doll's head and hair, however, were done over using Adobe Photoshop.
Lower left page
For my Illustration MFA, one of my classes required 10-minute sketches of human figures in action or motion. One week, there was a revolver-toting, cowgirl-themed female model dressed in a leather fringed dress our class had to sketch up in those 10 minutes, and this is what my 10-minute sketch turned out like.
Right page
This doodle art of a young girl was rendered using oil paint as part of a larger oil painting project.
I hope you enjoy this doodled art collection debut and I'll be sharing more of my doodled art via a Volume 2 post soon!
Thanks for reading,
Explore the art of illustration with me.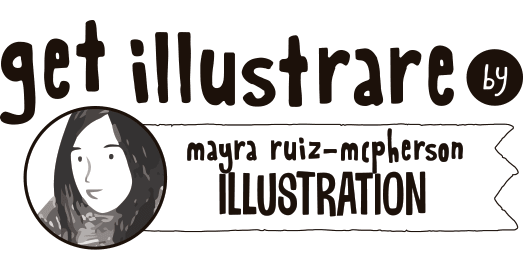 Receive illustration, surface pattern & other creative insights.
(My licensed products line is coming soon, stay tuned!)
Latest posts by Mayra Ruiz-McPherson
(see all)