Doodle Art Collection: Volume 2
In this Doodle Art Collection: Volume 2, I've shared a few of my (rough draft) value studies (on left) for a black and white digital painting project featuring a surprised octopus character who's working late into the night. Maybe the octopus is surprised by a bad news email he just received? Or perhaps he's just overwhelmed by how much work he still has left to do! 🙂
The nocturnal, laptop-using octopus character (on right), which I named Octelle Huite, was the creative outcome from this assignment.
About my Doodle Art 2 collection
The thumbnail value sketches (left) were first drawn on sketchbook paper, then later imported into Adobe Photoshop, which is where I rendered the final illustration(s) (right).
More info
I hope you've enjoyed my Doodle Art Collection 2. Here's a link to Doodle Art Collection 1 in case you're interested.
See you again for Volume 3!
Thanks for reading,
Explore the art of illustration with me.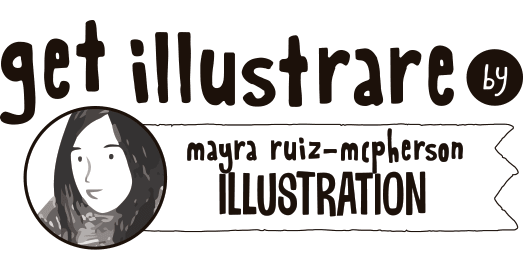 Receive illustration, surface pattern & other creative insights.
(My licensed products line is coming soon, stay tuned!)
Latest posts by Mayra Ruiz-McPherson
(see all)