Doodle Art Collection: Volume 4
This Doodle Art Collection: Volume 4 includes a portrait trio of famous male actors (with Al Pacino on the left) I had been given at some point during my Illustration MFA as part of a drawing practice assignment.
The method of drawing this set of male portraits required me to draw shadow shapes first, then work my way out towards lighter areas and lightly blending, when necessary.
STABILO CarbOthello chalk-pastel pencils and Strathmore 400 series toned drawing papers were used for the original version of these chiaroscuro drawings.
(Please note that when I brought the drawings into Photoshop, some of the hair areas appear to have lost some of their smufato look.)
I hope you've enjoyed my Doodle Art Collection Volume 4.
Here are Volume 3,  Volume 2, and Volume 1, in case you're interested.
See you again for Volume 5!
Thanks for checking out,
Explore the art of illustration with me.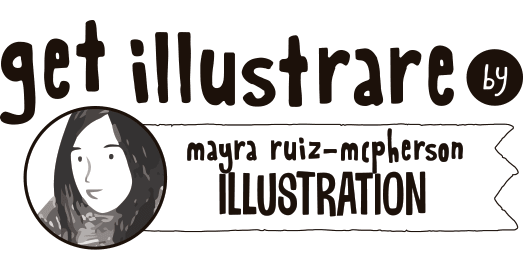 Receive illustration, surface pattern & other creative insights.
(My licensed products line is coming soon, stay tuned!)
Latest posts by Mayra Ruiz-McPherson
(see all)