Embracing Painterliness
My watercolor instructor says I have a "painterly style."
As I'm still trying to learn what my illustration and painting style is (and isn't), her comment intrigued me.
I wasn't entirely sure, however, what she meant by "painterly" so I looked it up and found one of the first search results on Google is to an April 2018 blog post on LiveAbout.com entitled "The Painterly Style" by Scottish artist Marion Boddy-Evans.
In the post, Boddy-Evans kicks off her writing by immediately addressing a painterly style as one that celebrates the medium that it was created in, be it oil paint, acrylics, pastels, gouache, watercolor, etc., rather than a style that tries to hide the act of creation or the medium used.
The painterly style is also described as one that's loose, expressive, and often results in visible brushstrokes.
And in a more recent post published in June 2019 on the same site, Boddy-Evans further expands her description of painterly as a painting style some people regard as "less finished."
Yet, she adds, this style of painting is "not intended to look smooth and glossy like a photograph."
The artist goes on to say:
"It's a style which celebrates and shows off the materials made to create it: paint and a brush. The result is something only a painter could produce."
My continued research on this painting style led me to Wikipedia, which references "painterliness" as a way art historians characterize artworks.
Specifically, a painterliness style is the opposite of "linear, plastic or formal linear design."
Common characteristics of a painterly style also include:
loose, expressive, and visible brushstrokes
applied medium is used in a less controlled manner
generally does not closely follow carefully drawn lines
After exploring this painterly term more fully, I have to agree with my watercolor instructor: my illustration and painting style does appear to be rather painterly. 
I'm still learning about my style of drawing (and am still not sure how to fully describe it, if asked) but I do concur that my way of painting does tend to be loose.
This was not always the case, however.
When I first began drawing, I remember being more stiff with my brushstrokes, possibly because I lacked both confidence and painting experience.
It definitely took me some time to "let go" and paint or draw more loosely.
Now, nearly three years into my Illustration MFA, I feel far more agile and much less inhibited in my approach to painting and illustration.
At any rate, is your painting style painterly?
I'd love to learn how you describe your own unique painting flair. Leave a comment and let me know how painterly, or not, your approach to painting may be so we can learn from each other.
Thanks for reading,
———————————————-
Postscript
The partial view of the featured image used for this post is from a mixed media painting (using watercolor and gouache) I completed for an MFA final assignment, which required our class to paint a scene with Bilbo Baggins, the beloved hobbit character.
The painting, however, still needs some slight tweaks and revisions so until I can complete those, all I will share here is a mini view of my work. Once I wrap up the changes, I'll add the final painting to my portfolio.
Explore the art of illustration with me.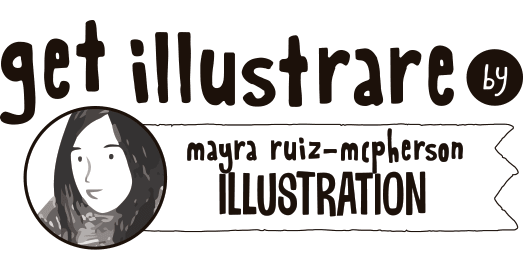 Receive illustration, surface pattern & other creative insights.
(My licensed products line is coming soon, stay tuned!)
Latest posts by Mayra Ruiz-McPherson
(see all)