Once Upon a Barn: A Tour of My Art & Design Studio in Hamilton, Virginia
It's so hard to believe how far gone my now-art design studio was when my family and I first moved into our 1890 home in Hamilton, Virginia last summer.
This is how the entrance to my barn, which I eventually converted into my studio space, used to look like:
The entire exterior to the building was covered in overgrown ivy and the barn's interior — which I unfortunately did not take pictures of at the time (and I could totally kick myself for that) — was kind of run down and super dingy.
As you can see, it wasn't exactly the most inspiring of places from which to do art from.
Still, the barn had massive charm and endless potential.
You had to be able to see through the clutter and have some kind of vision of what could be.
And I did.
My construction crew and I took some time decluttering the shed. Once everything was out of the barn, the next step was to sweep out all the cobwebs, putty all the holes, sand down all the surfaces, and prep the space (walls, tabletops, and shelves) for painting.
While I'd considered painting with color, I opted for white at the time and opted to layer in color over time once I felt more connected to the space.
Next, I unboxed and organized all my stuff.
This included an infinite number of art supplies, books, trinkets, and more.
Now here's how things are looking so far
I bought the black stool-looking chair at a nearby flea market near Harpers Ferry, West Virginia and it needs some sprucing up.
And I've also been toying with adding some color (or a mural?) to the walls ?? I'm still undecided and kind of strapped for time these days **BUT** at least the space is looking FAR MORE like a proper art and design studio than what it used to be.
I'm just thrilled with how it's all coming along and happy to share it with you so far.
Moving forward
Now that the barn's been totally spruced up …
… I have many plans for moving forward but for the time being, every day I get to enjoy my new art and design studio space feels absolutely amazing. I walk in and get completely lost in creativity mode while there for HOURS (and hours and hours) to the point where family members have to practically yank me out, especially when I'm deep in the zone.
There's still so much to do but I'm taking it slowly and letting myself become acquainted with the space.
For now, I'm much more focused on building up my online portfolio and updating this website in between projects but I'll continue to share future art studio decorating progress as I slowly evolving the space, a tiny inch here and a little pinch there.
Thanks for reading,
Explore the art of illustration with me.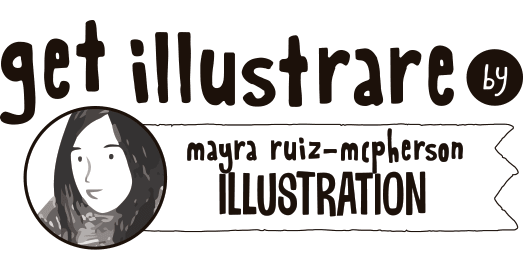 Receive illustration, surface pattern & other creative insights.
(My licensed products line is coming soon, stay tuned!)
Latest posts by Mayra Ruiz-McPherson
(see all)