Sketch Noting Illustrations Inspired by Academic Orientation Sessions
Unlike text-only note-taking, sketch notes are a form of visual note-taking that brings information to life using a combination of loose doodles, casual sketches, illustrations, and hand-lettering accents.
The latter elements, coupled with good use of layout, offer content a graphical context that visually reinforces concepts, ideas, and commentary.
Real-time sketch noting
When taking sketch notes in real-time, doodles, hand letterings, and other inspired drawings don't always come out perfectly. Still, the end result (including uneven marks, ink blotches, and other natural imperfections) is quite pleasing and fun to read.
And that's the case with the sketch notes I've shared in this post, which I recently doodled while attending an academic orientation for my doctoral degree.
As members of the faculty spoke (over multiple Zoom meeting sessions), I busily doodled away, often jotting down what I felt were important nuggets of information using squiggles, words, and images to organize my thoughts and visually journalize the orientation experience from start to finish.
Sketch noting: materials and edits
To achieve this series of sketch notes, I used a navy blue felt tip pen and an aqua blue marker.
I also used a regular, No. 2 pencil to sometimes lightly sketch out a visual idea or lettering layout before committing to it with pen or marker.
After committing, I'd ink over my pencil marks and then use an eraser to remove all traces of pencil thereafter.
After the sketch notes were completed, I then imported them into Photoshop for light clean up and color tweaks but all the while, making sure to preserve most of my imperfections.
I hope you've enjoyed this series of sketch notes.
I don't often get a chance to do much sketch noting and would like to doodle many more of my notes in the future.
Overall, this visual notes experience has been really enjoyable.
The ideas I was able to visually journal during the orientation have become easier for me to retain as a result, and the final aesthetic outcomes shared here have been super fun to consume and share.
If you have any sketch notes to share, I'd love to see them. Please do share any links to your sketch notes in the comments.
Thanks for reading!
Explore the art of illustration with me.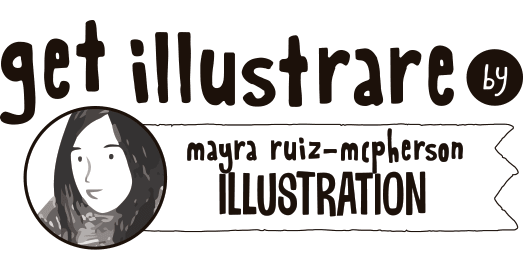 Receive illustration, surface pattern & other creative insights.
(My licensed products line is coming soon, stay tuned!)
Latest posts by Mayra Ruiz-McPherson
(see all)